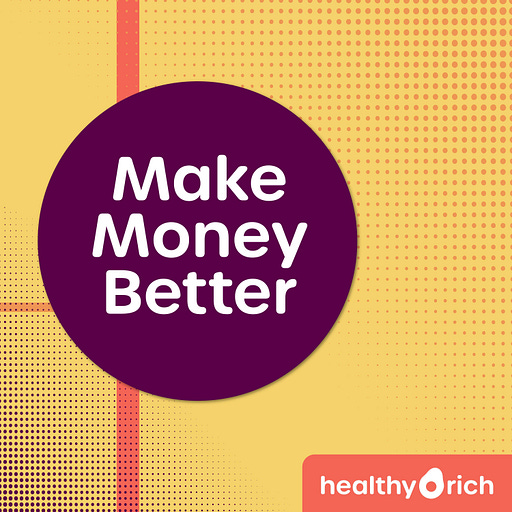 Jul 25, 2022 • 40M
The false binary of entrepreneurship vs. employment with Sarah K. Peck
Founder of Startup Parent Sarah K. Peck explains why it's so limiting to divide career options into two paths: traditional employment or entrepreneurship.
Lessons and conversations that examine ways to earn, manage, save and spend money with ease and joy. Hosted by Dana Miranda, a personal finance educator and the founder of Healthy Rich, a platform for inclusive, budget-free financial education. Want more from Healthy Rich? At healthyrich.co, you'll find stories that explore the ways money intersects with our culture and individual lives, from writers whose voices you won't hear anywhere else in personal finance media.
Blog writer: Carson Kohler has been writing for the web since 2016. Based in Arlington, Virginia, she is currently a writer at a national news organization.
We often divide our career options in two paths: entrepreneurship or employment. You either work for yourself or you work for "The Man." This pits the two paths against each other. Entrepreneurship is good, and corporate is bad.
But this type of binary thinking — employment or entrepreneurship — can be extremely limiting, Sarah K. Peck, CEO and founder of Startup Parent, explains on the Healthy Rich podcast.
"There's so much interesting space in that middle zone," she says.
Healthy Rich is a platform for inclusive, budget-free financial education. Become a free or paid subscriber to support our contributors and get our latest in your inbox
Entrepreneurs vs. employees: the dangers of binary thinking
When she counts them up, Peck estimates she's had more than 30 jobs from her teenage years on. These have ranged from traditional employment to entrepreneurial endeavors and everything in between.
Peck explains a few problems arise when we present work opportunities in these two black-and-white buckets.
First, despite the rhetoric around being your own boss — work from the beach, they say! — one path is not easier than the other. Second, starting a business eventually funnels into the corporate world if you plan to register it as an LLC and hire employees. Third, and perhaps most problematic, people are missing a lot of opportunities that arise between the two.
"There's space to learn and to find the strengths of all of the components of each," Peck says.
Instead of looking at opportunities as entrepreneurship versus employment, Peck prefers to look at it more like a circle. This is what she means: You might have a corporate job but also have a side hustle. Or you might work as a freelance consultant with corporate clients. There are also intrapreneurs, which are entrepreneurial leaders who work within a large organization.
"There are so many different flavors of business and entrepreneurship and freelancing that I just think this whole 'big bad wolf' of the corporate world is sometimes a misused metaphor," she says.
How entrepreneurship can complement corporate life
Peck often tells people to keep their jobs as long as they can — "as long as it's not sucking your soul and crushing your spirit."
"If you have a job that you like, that pays you money, I think one of the strongest positions to be in is to have a job and a side hustle," she says. "With a job, you actually have time and space to be able to build [your business] at the pace that it needs to be built."
And it's not only beneficial to your side business. If you're in an industry seized with layoffs, having a side hustle can provide you a sense of security.
Plus, there are skills you can pick up as an entrepreneur and as an employee that cross over. For instance, as an employee, you may learn about processes, time management and leadership. All those skills are essential as an entrepreneur. On the other hand, if you run your own business, you learn how to work independently, solve problems and think lean. Those skills are extremely beneficial to an employer, too, and make you marketable as an employee.
Striking a balance
When determining the best fit for you, remember there doesn't have to be one answer for you — you can be an employee and an entrepreneur.
It's also important to remember you can jump back and forth. For instance, you're unhappy so you leave your job and start your own business. But a year into this venture, you realize how difficult it is to find new clients or how much you hate the sales and marketing part of the job. So, you go back to working as an employee.
That's totally OK, Peck says. You're not a failure. Depending on your wants and your needs and where you are in life, you can oscillate between these two worlds throughout your career.
As an employee, you may also find room to negotiate your terms, so you can balance employment and entrepreneurship. Maybe you work from home a few days a week to avoid commuting, or maybe you leave early on Friday. Employees have a lot of leverage right now.
When you have these conversations with your manager, Peck reminds us to frame it as a benefit to the employer, not yourself. For instance, your four-day work week would benefit the employer because you would be more productive and save time without a commute. Cite research, and show off your results.
And remember: Read your employee agreement carefully. Keep an eye out for non-compete and rights to intellectual property clauses. If needed, negotiate an addendum to ensure you're in the clear to pursue your side business.
Ultimately, it's important to slash this "right way" and "wrong way" of thinking in the conversation about making money. There are benefits to both. It's all about what best suits you.
---
💡 Featured class
---
This article is based on an episode of the Healthy Rich Podcast, conversations with leaders and creators in the personal finance industry and beyond to discover steps we can take to bring inclusive, budget-free financial education to more people. Subscribe wherever you listen to podcasts!