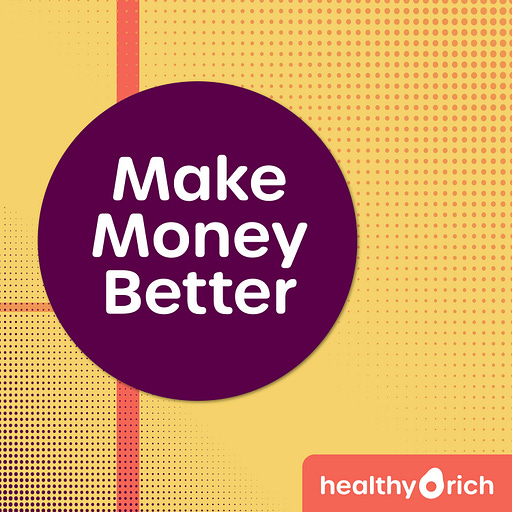 Jul 11, 2022 • 53M
How money online has changed w/Forbes staffer Lisa Rowan
Forbes Advisor senior staff writer Lisa Rowan joins us to talk about the evolution of the personal finance industry from the inspirational personal journey to multi-million dollar media companies.
Lessons and conversations that examine ways to earn, manage, save and spend money with ease and joy. Hosted by Dana Miranda, a personal finance educator and the founder of Healthy Rich, a platform for inclusive, budget-free financial education. Want more from Healthy Rich? At healthyrich.co, you'll find stories that explore the ways money intersects with our culture and individual lives, from writers whose voices you won't hear anywhere else in personal finance media.
Blog writer: Carson Kohler is currently a writer at a national news website. Previously, she worked alongside Lisa Rowan and Dana Miranda as a staff writer at The Penny Hoarder. She's based in Arlington, Virginia.
The online personal finance space was a totally different game a decade ago. It was more about the personal journey. 
Think: Circa 2010, a crop of twentysomethings, deep in debt, start blogging to chronicle side gigs and efforts to climb out of debt. They share experiences of mystery shopping, coupon-stacking and collecting freebies.
But, along the way, we've seen a major shift.
Lisa Rowan, a writer, editor and podcaster, has worked in the personal finance space full time since 2016 — and she's the first guest on the new Healthy Rich podcast. She, alongside host Dana Miranda, wade into the state of the personal finance industry today.
The early days of personal finance blogs
Rowan joined The Penny Hoarder full time in 2016, about a year after the blog, which had started with the kind of personal journey mentioned above, morphed into a media company, hired its first employee and opened an office.
Let's take a quick pulse of the industry at that time. A lot of aspects of personal finance, as we know it today, were still relatively new. The Consumer Financial Protection Bureau was only about five years old, and the CARD Act was enacted in 2009. (Those of a certain age will remember credit card companies poaching susceptible college students on campus.)
"We were getting into the personal finance industry as writers at the same time the personal finance industry — and finance industry in general — was having a reckoning in terms of transparency and accessibility," Rowan says.
She continues: "It's been interesting to see how that transparency has increased — or that perceived transparency has increased — and how our relationship with money has changed."
You also have to remember we were emerging from a recession, so people just wanted to get back on their feet. There was a huge emphasis on side gigs in particular.
But Rowan says, with more data, more demand and more voices, she's watched this online conversation around money transform.
"It's more than one niche blog you found that has some tips," she says. "This is something the mass media has really gotten a hold of — and it doesn't always encompass the circumstances you were born into or the color of your skin."
The online conversation around money today
Today, more and more online personal finance outlets are hyper-focused on answering the questions people search via Google. 
"People are just looking for answers and looking for comfort, and I think that really feeds into all this information we have, especially online," Rowan says.
Consumers want to type a question into Google and immediately get a succinct two-sentence answer. (Honestly, can't blame them.) As a result, SEO content has become a huge focus for a number of personal finance websites.
There's nothing wrong with wanting to serve readers and answer their questions, but some sites get caught up in writing for Google so they can have the first link that pops up when someone searches a specific term or question (i.e. more clicks).
But here's where it gets complicated: There's never one right answer in personal finance. There's no one-size-fits-all approach. The system is complex and therefore confusing.
"That's the frustration [for writers]," Rowan says. "We've moved away from the individual journey and nuances and try to offer the answer for everyone."
Rowan, now a senior staff writer covering consumer finance at Forbes Advisor, shares a recent example of this dilemma. Her editor wanted her to write an article about the fourth stimulus check. Google searches on the topic have been soaring. Everyone wants to know if there will be a fourth — they're stressed.
But the answer is multi-faceted. There are about 10 states that have — or are about to have — some sort of rebate program for residents. Rowan says she can provide an answer for readers and Google searchers, but it's not necessarily the answer they want — or the one that will be the most helpful.
And, really, the fact that people are asking this question points to an even bigger question (read: problem). People are actually asking, "How can I get help?"
Because these sites are writing to rank on Google, they're leaving a lot of good advice — and a lot of people — out of the conversation.
When hacks go too far
This evolution from the individual's story to more of a one-size-fits-all approach has brought about lists of hacks. These may also come in the form of tips, tricks, secrets… Whatever the name, you'll recognize one when you see it.
You could say Rowan is basically the queen of hacks. She wrote about personal finance at Lifehacker and is also the author of Money Hacks: 275+ Ways to Decrease Spending, Increase Savings and Make Your Money Work for You!
But when it comes to personal finance hacks, sometimes they feel out of touch.
For instance, you've probably seen the make money hack, "Make money napping!" or "NASA will pay you to sleep!" referring to sleep studies.
This, however, is incredibly niche. Sleep studies can run months. And they're not at a lab down the road from your home. They could be in another country. They're also often limited to certain age demographics and have other requirements, like "speak German."
How many people fit this criteria or can upend their lives for two months to stay in bed? Likely not many.
Rowan, however, approaches hacks differently.
"I'm looking for things that I can convey to the biggest group of readers," she says. If she runs into a "hack" for 18 to 21 year olds who live in central Missouri, that's an automatic no.
Another issue: A "hack" also implies it's a quick fix, easy to do. But a lot of times, they aren't.
"We call them hacks because people want to feel like they're besting the system, like 'Look at me, I pulled one over on you, Uncle Sam,'" she says. "What it's really about is habit-building."
But, as Rowan points out, it's essential we acknowledge that habit-building is easier for some than others. For the thirtysomething White woman who's single, has no kids and is relatively debt-free? No biggie. It's not the same story for others, though.
"Every time I'm giving tips, I'm also thinking about all of the people who can't take those tips," Rowan says. "That's why we give so many tips — because hopefully there's something in there that's new for you that maybe you can apply to your life."
And for the hacks that aren't relevant to you? Take them as inspiration, as knowledge. As Rowan recounts from her Lifehacker days, "Sometimes the hack is knowledge."
"Sometimes the best advice you can give someone is a greater understanding of why something works the way it does or why this might be a difficult thing to do or overcome," she says.
Where do personal finance websites go from here?
Rowan doesn't hesitate to admit she's eager for the personal finance pendulum to swing back to the individual's story.
"It would allow us a little more creativity and being able to consider each person's individual situation and how this system fits into their life as opposed to how they can fit into the system," Rowan says, noting the need for more diverse stories.
Remember the oft-viral Refinery29 Money Diaries series? We'd read about the 23-year-old living in New York City who's making $30,000 a year as an intern but paying $4,000 a month in rent? How did she do it?! Click to find, her dad funded her lifestyle. (Nothing against dads, but those stories were frustrating and unrealistic for most.) Also, Money Diaries is still around — just less viral as of late.
And we can't just focus on telling the stories with the biggest numbers — the biggest savings, the biggest income, the biggest debt payoff. That's a symptom of budget culture. Sometimes a story about paying off a $5,000 credit card is more impactful than the guy who shed $50,000 in six months. (Like dieting, his tactics were probably unhealthy or unrealistic.)
Ultimately, no matter how she tells the story — as an individual narrative, a list of hacks or a guide with SEO top of mind — Rowan strives to help people have "little light bulb moments." Over time, these add up and can make a real impact.
This article is based on an episode of the Healthy Rich Podcast, conversations with leaders and creators in the personal finance industry and beyond to discover steps we can take to bring inclusive, budget-free financial education to more people. Subscribe wherever you listen to podcasts!